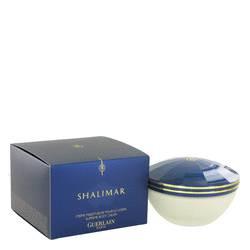 Shalimar Perfumed Body Cream 7.0 Oz By Guerlain
Shalimar Perfumed Body Cream 7.0 Oz By Guerlain 
Shalimar is the first oriental perfume in history.
L'Eau de Parfum Shalimar is a mythic fragrance with bergamot, iris and vanilla notes ; an intense wake with a touch of impertinence, always glowing which embodies skin-caressing sensuality with a hint of the forbidden.

Inspired by the passionate love story between an emperor and an Indian princess, Shalimar, which means "temple of love" in Sanskrit, symbolizes the promise of eternal love forevermore. It is a fragrance of desire. This feminine scent possesses a blend of iris, rose and vanilla.
---
We Also Recommend
---