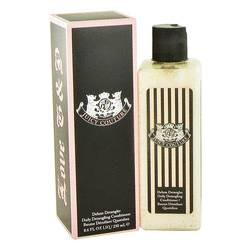 Juicy Couture Hair Conditioner By Juicy Couture
Juicy Couture Perfume by Juicy Couture, Juicy Couture fragrance by Juicy Couture is a distinctive mixture of delectable fruits and other natural and woodsy aromas that round it out perfectly. The scent's top notes include green leaves, mandarin orange,
marigold
flowers, pink passion fruit, water hyacinth, and watermelon. Expect these scents to last about 10 minutes after application. The middle notes include lily, tuberose, and wild rose. Middle notes take longer to come out, appearing about 15 minutes after spritzing. Middle notes will last and stay strong for about an hour. Juicy Perfume bottom notes last the longest, possibly up to several hours after application. The bottom notes of Juicy Couture include caramel, crème brûlée, patchouli, vanilla, and woods.
Juicy Couture original perfume was created by the Juicy Couture fashion masterminds in 2006. Juicy perfume was launched by
Juicy Couture
with virtually instantaneous success. This hip and fruity scent enjoyed a strong debut, becoming a top choice for American women of almost any age. In fact, the Juicy Couture fragrance had such a strong initial popularity that it won the FiFi Fragrance of the Year award for 2006. Following this distinction, the perfume began to catch on in popularity among European women.
It's impossible to describe the original Juicy Couture perfume with just one or two words. This multifaceted scent manages to be sexy without seeming overly heavy. The fruity and fresh fragrance feels light to the wearer with just the right amount of suggestive undertones. Women of all ages appreciate the broad scope of this perfume. Juicy Couture manages to step away from customary tradition just enough to offer a fragrance that's the perfect blend of innocence and sex appeal.
Give the gift of perfume or cologne by browsing the fragrances available to buy in our online shop. FragranceX.com offers a variety of different scents for sale, including the best Juicy Couture perfume, with
shipping available
to virtually anywhere in the world. Juicy Couture by Juicy Couture and all other fragrances we offer for purchase are
authentic and original name brands
. We never sell imitation products or knockoff brands. Contact us by email, phone, fax, or mail to learn more or to make your purchase today!
---
We Also Recommend
---